Nokia has released Nokia Ovi Suite 3.1.0.47 Beta and has asked feedback from the users.
Nokia Ovi Suite runs under Microsoft's Windows platform ONLY.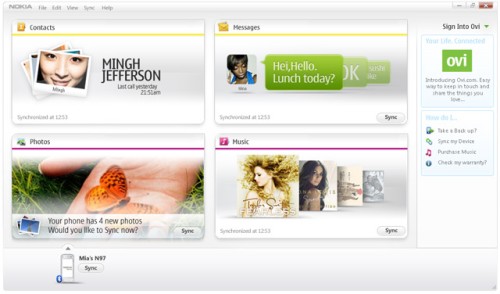 New features of Nokia Ovi Suite 3.1 Beta:
- Simplified experience for Ovi Store app promotions in Home view. Now you can send from Home view direct link of mobile application to your phone and proceed with download and installation inside your mobile phone. No need to open web browser anymore in desktop.
- Sync log: now you can view results of your last sync session and see, what details where added, updated or deleted from different sync end points.
- Critical fixes to sync with Microsoft Outlook. We have put lots of effort into improving sync with Microsoft Outlook and are very interested to see, how many of different problems we have solved.
- Sending text message to group. Create a contacts group from your favorite contacts in Contacts view and then you can send text messages to all members of that group easily from Messaging view.
- Improved video playback. HD video captured with Nokia phone plays now more smoothly in Nokia Ovi Suite.
- Maps download view. You can easily see what maps you have added to your download queue.
To use the download link you will have to sign in first.