Note:
This release of Redsn0w is mainly targeted for iPhone 3GS & 3G users on iOS 4.1 / 4.2.1 who rely on a carrier unlock.
Follow the instructions posted below to update your iPhone 3GS or 3G to 06.15.00 baseband and jailbreak it on iOS 4.1 /4.2.1.
Step 1:
Download
iOS 4.2.1
for iPhone 3GS or 3G.
Step 2:
Update/Restore to iOS 4.2.1 firmware using the IPSW file you just downloaded via iTunes 10.1.
Step 3:
Start Redsn0w 0.9.6b5 and browse to iOS 4.2.1 firmware to proceed with the jailbreak.
Step 4:
Now select "Install Cydia" & "Install iPad baseband" options and then click "Next" to continue. Redsn0w will now fetch the exploitable 06.15.00 baseband from 3.2.2 firmware and will replace it the baseband in iOS 4.2.1 / 4.1.
Note:
Install iPad baseband
option is applicable to iPhone 3GS & 3G users only who rely on a carrier unlock.
Step 5:
Now make sure your device is both OFF and PLUGGED IN to the computer before you click "Next".
At this stage you will be presented with a screen where you will have to quickly hold "Power" button and then while holding the "Power" button, you will now have to hold "Home" button too. Now after few seconds release "Power" button but keep holding "Home" button until installation begins.
Step 6:
Sit back and enjoy while Redsn0w will do all the rest for you. Once done, your iPhone or iPod touch will restart automatically and you will find it jailbroken on the latest iOS 4.2.1 firmware, with the unlockable 06.15.00 baseband.
For iPhone 4, 3GS (New Bootrom), iPod touch 4G / 3G / 2G, iPad ONLY:

Step 7:
Now from here onwards, whenever you want to do anything related to jailbreak like SSHing into your device, or running Cydia, you must first run your device in the so called "jailbroken state" on every reboot by using "Just boot tethered right now" option in Redsn0w.
How to: Unlock iPhone 3GS & 3G on iOS 4.2.1 / 4.1:

Step 2: Once you are done with the jailbreak, you can now unlock your iPhone on any baseband using Ultrasn0w 1.2 from Cydia. To do this:
Start "Cydia" on your iPhone.

Touch on "Manage" tab on the bottom.

Now touch on "Sources".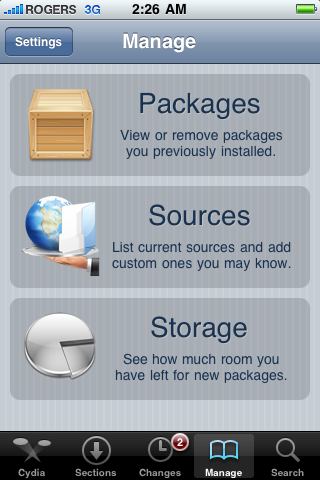 Touch on "Edit" and then on "Add". You will be prompted to enter a url source as seen in the screenshot below. Type "http://repo666.ultrasn0w.com" and touch on"Add Source" to add this repo if you haven't already.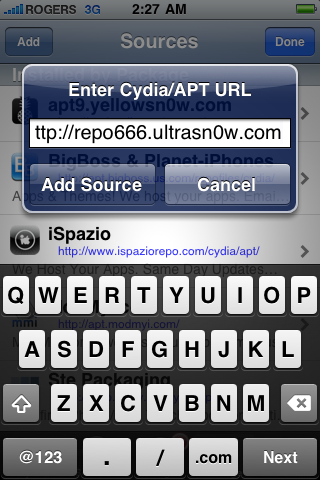 Cydia will now automatically update your sources by following a series of automated steps.
After installation is completed. Search for "ultrasn0w 1.2" in Cydia and install this application. This app will automatically unlock your iPhone so that you can use it with any carrier.
Step 3: Now simply restart your iPhone and voila! you should now have a fully unlocked iPhone 3GS or 3G, running iOS 4.2.1 !!! Ultrasn0w 1.2.